About us
Dear engaged couple!
If you are on this site, it means that you stand a challenge of organizing your wedding. I am very pleased to host you here!
Why am I telling you about the challenge, not the pleasure?
Because I know how difficult it is to organize a wedding, having no experience - leafing through and reviewing thousands of wedding offers, not having time to go to, look for, and check all of them. Because I know how hard it is to take care of all the details, not living locally.
Since 2011, together with Event by Ev team we have been relieving young couples in this lengthy process of wedding organization while contributing to their dream of a beautiful, coherent and modern wedding. This would not be possible if it was not for our experience, creative ideas, and cooperation with reliable subcontractors.
I hope that we will meet soon,
Iwona Przybojewska.
WHAT MAKES US DIFFERENT?
Our strengths
INSPIRATIONS
Find inspirations amongst our couples
See the full blog reports from our completed projects.
Our projects
Click and fill out the form, in response, you will receive a personalized offer and quotation for your cooperation with the Wedding Planner.
I'M SENDING AN ENQUIRY
SEE OUR CLIENTS' OPINIONS
They trusted us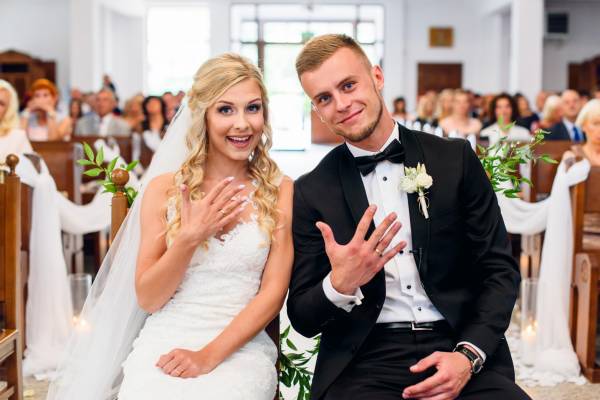 O skorzystaniu z pomocy organizatorki ślubnej zdecydowaliśmy wtedy, gdy okazało się, że planowanie własnego najważniejszego dnia nie jest takie proste, jak mogłoby się wydawać.
Już na pierwszym spotkaniu, na którym Iwona zebrała szczegółowy wywiad co do naszych oczekiwań, wiedzieliśmy, że to jest strzał w dziesiątkę! Każde kolejne spotkanie i mail tylko nas w tym utwierdzały. Przede wszystkim Event by Ev to pełen profesjonalizm co do wszystkich detali związanych ze ślubem. Będąc z Iwoną na naszej sali byliśmy pełni podziwu o jakie ważne rzeczy pytała personel, na które my byśmy nigdy nie wpadli. Niesamowita dbałość o szczegóły, nie tylko przy dekoracjach sali i kościoła (które powalały), ale również na każdym etapie przygotowań.
Nie wiem jak Iwona to robi, ale nie ma dla niej rzeczy niemożliwych. Nawet wymyślne pomysły przyszłej panny młodej 😉 nie były dla niej żadnym problemem i za chwile dostawałam maila z wyszczególnionymi propozycjami. Przed samym ślubem była dla nas wielkim wsparciem i dzięki temu mogliśmy odpocząć i zrelaksować się, zamiast siedząc do nocy, dekorować salę czy wozić napoje.
Dzień ślubu, taki jak sobie wymarzyliśmy, był wynikiem ciężkiej pracy Event by Ev, wszystko dopracowane, piękne i zorganizowane. My mogliśmy oddać się zabawie, a Iwona wraz z Kasią jak nasz osobisty "anioł stróż" czuwały, żeby wszystko przebiegało pomyślnie i zgodnie z planem, od wejścia do kościoła do ostatniego gościa na parkiecie 🙂
Dziękujemy i polecamy wszystkim z całego serca !
Ola i Łukasz
Want to receive a special gift? Join our newsletter!